With Bartech Automatic Systems: Are you looking for a minibar for your hotel room, look at Bartech first. Bartech has great hotel mini bar programs supported by numerous models and configurations.
Today, over 400 hotels with lodging capacities from 35 to 3000 rooms share Bartech's automatic mini-bar technology. Bartech's system is provided with a wide range of automated mini-bars with different chilled capacities (from 30 to 75 liters), several types of the dry section and three possible cooling systems.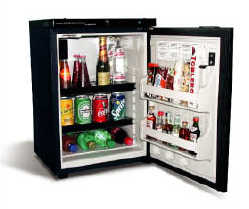 C32 (40L)
Brantas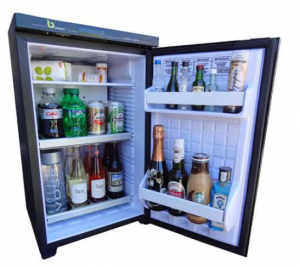 UH32 (47L)
Brantas
C41 (55L)
Brantas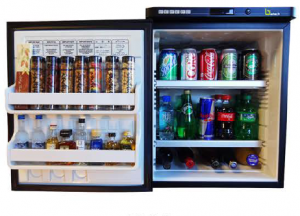 U41 (65L)
Brantas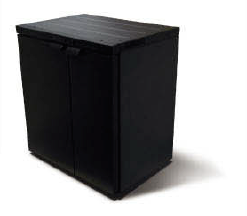 C46 (70L)
Brantas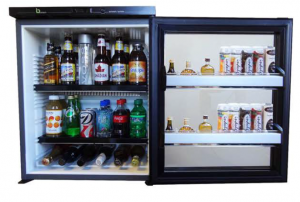 UH46 (75L)
Brantas
Available in different colors, Bartech's e-fridges fit in any in-room décor. Connected to the hotel's Property Management System via an interface, Bartech's Windows-based software automatically posts mini-bar charges to the guest folio. Some of the numerous features and advantages of the system include:
The subsequent decrease in revenue losses: The automatic billing of charges allows a better control of the hotel's mini-bar revenue leading to a decrease in revenue losses down to 2% (instead of 30-35% for manual mini-bars).
Automated Access Control: The interface with the Front Office System provides check-in and check-out information to the minibar, allowing the minibar to be automatically locked when the room is vacant. Upon check-out, the guest cannot go back to the room
and "empty the fridge". Additionally, the minibar can remain locked for certain categories of guests, such as cash paying guests, tour groups, and aircrew. Staff will also no longer have access to the minibar when the room is vacant.
Restocking and trolley management reports: Bartech provides for very comprehensive reporting tools. These reports allow for management and control of store issues. Only items will be issued which have been consumed by the guests, therefore avoiding oversupply to the minibar attendants and subsequent pilferage opportunities.
A decrease in labor costs with only one mini-bar attendant for 400 rooms (instead of one for 100 rooms with manual mini-bars).
A powerful refill report provides real-time information on consumed and temporarily picked-up products. Attendants by means of a dedicated remote control make refilling easy and efficient.
Quicker check-out and improved service quality: Available at the front desk, the 'popup screen' (overview of the status of each product in the mini-bar) reduces the number of disputes. Thanks to this option, front desk staff do not have to ask guests anymore whether they've 'had something from the mini-bar?', which increases guest satisfaction.
Increased Minibar promotion opportunities with Happy Hour opportunities at the minibar and a PayTV interface allowing cross sales. When the guest orders a movie, he can be alerted to a promotion whereby Minibar products are offered at a reduced price.
Quality products: The expiration date option allows a better control of product rotation in the rooms thus avoiding guests complaints related to stale items and elimination of losses due to expired products. Alerts allow the "to expire" products to be transferred to other outlets prior to expiration.
Numerous reports (revenue per period, best selling products…), can be exported to Excel for a better control and optimal sales in the mini-bar revenue center.
CESS or Computerised Energy Saving System: This unique system allows for total management of the temperatures and cooling cycles of the minibar. Cooling can be set according to rate periods set by the electricity supplier of the hotel and room status, thus allowing the management to enhance the cooling efficiency reducing energy costs significantly. Bartech uses remotely controlled electronic thermostats.
In-room technology interfaces can be used to have the minibar communicate with other devices such as safes, courtesy lights, and climate control systems. The Ethernet CAT5e or CAT6 infrastructures can also be used to allow for the provision of in-room broadband internet access solutions. The safe interface allows the hotel to charge for safe use, or check the safe door status so that the front office clerk is able to alert the guest if items have been left behind in the safe upon check out.
Email reporting: The Bartech system has a unique capability to alert internal hotel support staff in the hotel and external service organization if faults or unusual situations such as interface interruptions occur, thus allowing a very quick response time. Revenue reports can also be automatically emailed by the system.
Remote controls: Housekeeping staff can be issued with remote controls enabling them to update room status via the minibar. Bartech has also developed an engineering service request system with remote controls. This will assist housekeeping staff to send service requests to engineering via the minibar.
It should be noted that Bartech can provide for a quest courtesy shelf allowing guests to use the Bartech Minibar to refrigerate their own items such as fruit, milk bottles and baby food.
Business Models offered by Bartech and it's business partners include straight purchase, operational and capital lease, revenue share and now also outsourcing.
Bartech has also recently launched the convertible hotel mini bar, allowing an upgrade path from manual to automatic minibars.
With Bartech's many designs, the Bartech guest room refrigerator will fit any cabinet.
E- Fridge Electronic Automatic Mini-Bar
With capacities of 20 liters to 75 liters, Bartech offers 8 different sizes, more than 140 versions and 8 types of dry sections. Bartech can supply any door or cabinet finish in accordance with the guestroom's décor. Volumes, styles and dry sections can be combined to your satisfaction.