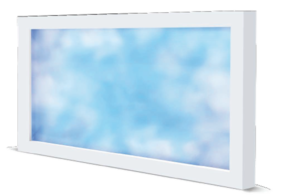 Why E-WINDOW
Daylight is the most important light source to us.
Research has shown that daylight has a great impact on our health, both physically and mentally.
Light for humans are influenced by time, seasons, geographical location, climate and architectural structures.
E-Window was developed as the first artificial daylight system to help bridge some of the challenges we face when natural daylight is not available. It produces a simulated daylight into an interior making sunshine available whenever we want, not restricted by environmental factors or structures.
Circadian Rhythm
When setting the local date, time and latitude of the location, the control system can synchronize the lighting ambient to the sun within a 24-hour cycle. The lighting solution supports the human circadian rhythm, improving concentration. preventing sleeping disorders and overall wellbeing of people in the environment.
Benefits of light
Human centric lighting is supporting the Circadian Rhythm of the human body and improves vitality and concentration. Next to this, it has positive influence on the prevailing mood and on bodily functions, and positive effect on depression, anxiety and on convalescence dynamic. Research results showed increase of work performance by 19%, reduction of fatigue by 27%, significant increase in concentration by 37%, enhancement of alertness by 23 % and increased wellbeing.
Colour Temperature
Human Centric Lighting supports the natural rhythm of the human body and improves vitality and concentration. The use of the complete light spectrum enables us to simulate and follow the changes of daylight in indoor applications.
How it works
The luminaire is designed to mimic the natural sky scene of a clear blue, clear cloud and bright sunshine day. This is achieved by closely replicating the natural sky colour temperature and intensity of natures light. We have combined leading LED technology with premium optical design that is finely tuned through the day by our intelligent control system. The panel is light and easy to install and operate.
Imitating 3D Sky
The optimised light source illuminates the sky and clouds transforming them into a translucent 3D visual appearance that similates the effect of a high quality blue sky that can be experienced all day.
Simulate Sunshine
Multiple groups of specialized lenses creating micro-structures to collimate the light source. The light is delivered to replicate a dose of sunshine of high intensity. The delivered light produces a defined and clear cutoff.
HOSPITAL ROOM